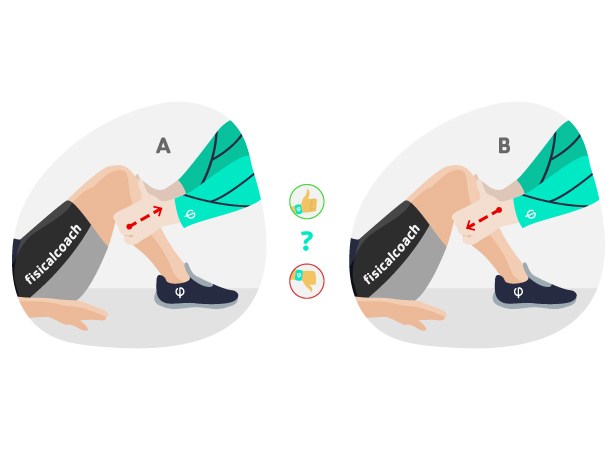 Front and rear drawer test
Drawer tests are used to assess the integrity of the cruciate ligaments of the knee, both the anterior cruciate ligament (ACL) and the posterior cruciate ligament (PCL).
Required material: A physiotherapy couch. If the test is performed on the floor, a mat or matting is required.
Procedure: The subject must lie in the supine position (face up), with the hips flexed at 45º and the knees at 90º. Feet resting on the stretcher or mat. The position of the assessor must allow the subject's foot to be fixed or locked. From this position, the assessor should grasp the proximal end of the tibia with both hands in such a way that the proximal epiphysis is embraced with the fingers and the thumbs are at the level of the joint interline. From the indicated position, we must apply a thrust force in the direction of the manoeuvre that allows us to check the integrity and degree of involvement in relation to the stability of the knee. Thus, for the anterior drawer manoeuvre, we will apply a force forwards and, on the contrary, for the posterior drawer, we will apply a force backwards.
Assessment: Tests will be considered abnormal or positive when there is excessive displacement of the tibial plateau in the direction of the manoeuvre performed. Otherwise, the tests shall be considered normal or negative.
Remarks: It is advisable to assess the position of the tibia prior to assessment. In the anterior drawer test, the knee should remain in neutral position and, in the posterior drawer test, it is also advisable to assess with the tibia in internal and external rotation. The musculature should be relaxed.
Take this test and 139 more in our App