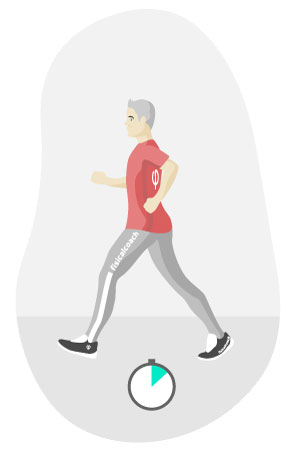 Rockport test (1 Mile)
The Rockport test, also known as the mile test, is an aerobic endurance test designed particularly for people who cannot run due to a low level of physical fitness or who have cardiorespiratory difficulties. This test is used to measure the approximate maximal oxygen uptake (VO2 max) of the subject.
Required Material: A flat terrain, a stopwatch and a heart rate monitor.
Procedure: The subject must walk a distance of one terrestrial mile (1609 meters) in the shortest possible time. The subject will only be able to walk fast, but not to run, along the entire distance.
Assessment: At the end of the test, the subject's heart rate (HR) in beats per minute (bpm) is recorded, as well as the time required to complete the run in minutes (min) and seconds (sec). The subject has only one attempt to complete this test.
Remarks: The heart rate of the participants must exceed 120 beats/minute at the end of the test.
Take this test and 139 more in our App