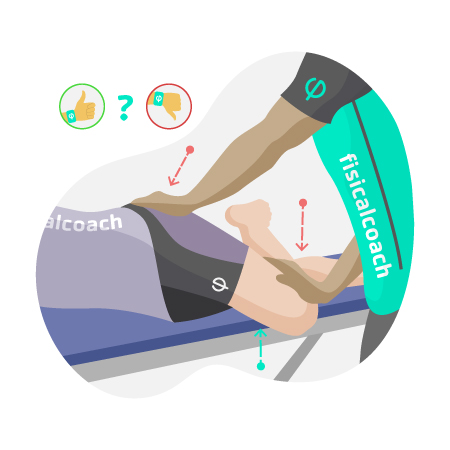 Passive test for pyramidal syndrome
This test is used to assess the degree of flexibility and/or shortening of the piriformis muscle.
Required material: A physiotherapy couch. If the test is performed on the floor, a mat or matting is required.
Procedure: The assessor stands on the side to be assessed. The subject is placed on his or her side and rests a little on his or her stomach (lateral-ventral decubitus). The lower limb to be assessed in flexion of approximately 60º at the hip and slightly more than 90º at the knee on the outside of the stretcher and the foot of the limb on the popliteal fossa of the healthy limb, which remains supported on the stretcher and in extension. The assessor stabilises the hip with one hand and applies vertical and downward pressure with the other.
Assessment: The test is considered abnormal or positive when any type of pain or discomfort is manifested throughout the manoeuvre. If no pain is present, the test is considered normal or negative. The appearance of pain is a sign of tension in the muscle indicating acromioclavicular impingement.
Remarks: Other pathologies with similar muscular or neurological signs should be ruled out if pain is present.
Take this test and 139 more in our App