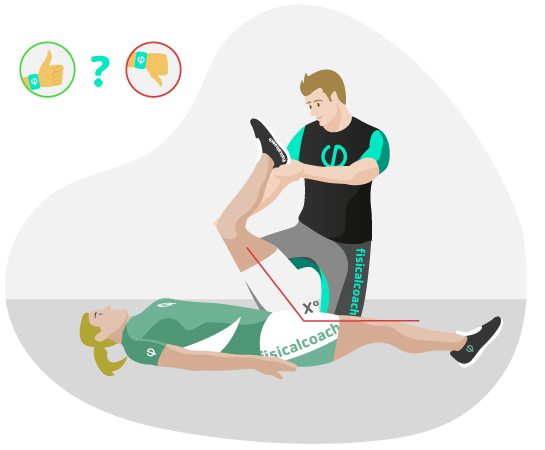 Maximum hip flexion test
This test is used to assess maximum hip flexion.
Required material: A physiotherapy table. If the test is performed on the floor, a mat is required.
Procedure: The subject is placed on the floor in the supine position (face up) and the assessor on one side of the limb to be assessed. Initially, the subject holds their hips in 180º extension with their knees extended. The assessor will take a shot over the subject's knee and foot. He/she will then flex the subject's knee and hip to the maximum capacity of the range of motion (see illustration).
Assessment: The angle of flexion of the hip is measured, taking the pelvic angle as a reference, this being the maximum once the thigh contacts the chest of the subject being assessed.
Remarks: No normality references or generalisable data are provided for the flexion angles because the individuality of each case must be considered at all times.
Take this test and 139 more in our App