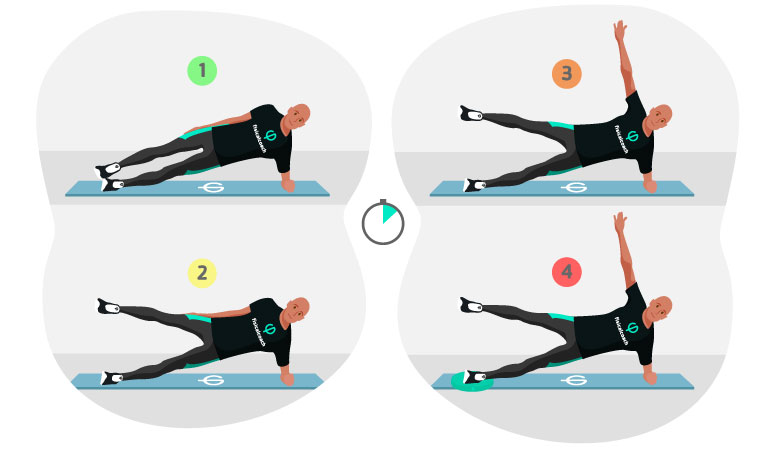 Isometric side plank test
This test is performed to assess the ability and resistance of the lateral core musculature in its stabilizing function. There is a correlation between the resistance measured in this test and the hip external rotation strength and the incidence of injuries. This test requires approximately 50% of the maximum activation of the lumbar quadratus lumborum.
As pictured in illustration A, there are 4 variants of this test in which the level of difficulty is progressively increased.
Isometric side plank.
Isometric side plank with leg lift.
Isometric side plank with leg and arm lift.
Isometric side plank with leg and arm lift on an unstable surface.
Required material

:

A flat surface, a stopwatch and some soft, unstable material (variant 4). The use of a mat is recommended for greater subject comfort during the test.
Procedure

:

The subject should be in a lateral plank position with the forearm resting on the floor, elbow aligned vertically with the shoulder and the legs fully extended with one foot resting on the floor. The arm on the ground must form a 90º angle at the elbow joint. This test measures the time that the subject is able to maintain a stable position without compensations. The test ends when the hip descends or the subject loses balance.
Evaluación: Se mide en segundos (sg) y el sujeto dispone de un solo intento. No hay que olvidar hacer el test por ambos lados. El evaluador debe estar muy entrenado para poder identificar los cambios o perdida de grados en la zona neutra columna-pelvis y dar por terminado el test.
Assessment

: Measured in seconds (s). The subject has only one attempt to perform the test on each side of his/her body. The evaluator must be highly trained to identify changes or loss of control in the spine-pelvs neutral zone and terminate the test.
Remarks: A strong and stable Core is the basis for all movement. On the other hand, a weak Core will pose a risk for the passive structures of the spine, and the vertebral discs can be greatly compromised by high impact exercises.
Take this test and 139 more in our App