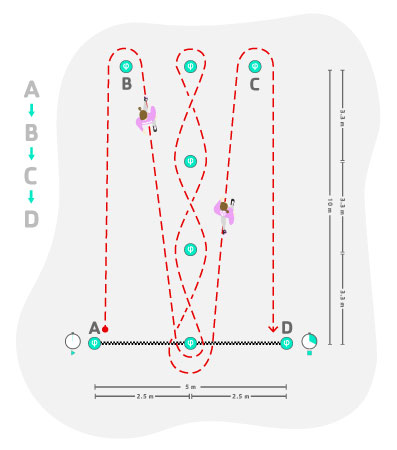 Illinois Agility Test (IAT)
The Illinois Agility Test (Getchell, 1979) is an agility test frequently used in multiple sports to measure the subject's ability to change position and direction.
Required Material: A flat non-slip surface, 8 cones and marks to delimit the course of the circuit, a tape measure and a stopwatch.
Procedure: In order to perform this test, a 10 x 5 meters rectangular space must be delimited with 4 cones, and another 4 cones must be placed in the middle straight line 3.33 meters apart from each other (see illustration). Then, the subject must get ready on cone A from a prone position (face down), with hands at shoulder height (the test can also be performed from the standing position). At the evaluator's start signal the subject must get up and run the circuit as fast as possible until the end (cone D), passing through cones B and C where he must touch them with his hand. Once the test is finished, it is advisable to repeat it in the opposite direction.
Assessment: It is measured in seconds (sec) and the subject has a maximum of 3 attempts. In Fisicalcoach, the lowest time, as well as the mean and the median can be recorded.
Remarks: Since in exercises that require changes of direction performance depends on the angle and speed during the execution, different tests should be considered and the most specific and appropriate one should be chosen in each case. Fisicalcoach features a large set of tests available to perform.
Take this test and 139 more in our App