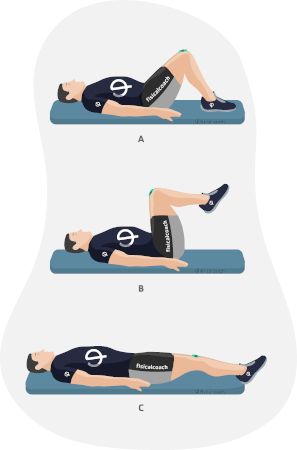 Hip adductor strength test (Squeeze test)
This test is used to assess the strength of the hip adductors bilaterally (both sides).
Required material: A dynamometer or a sphygmomanometer and a physiotherapy table. If the test is performed on the floor, a mat is required.
Procedure: he subject starts the test lying supine (face up) on the stretcher. The test can be performed in 3 knee flexion positions (45º, 90º and neutral position). In all of them, the subject must place the measuring device at the level of the femoral condyle, as shown in the illustration. In the first position (A), the heel and the entire sole of the foot must be in contact with the support surface, while in the last position (C), it is the entire lower limb that must remain in contact.
Assessment: The values obtained by the device used for the measurement (hand-held dynamometer or sphygmomanometer) are recorded.
Remarks: It is a test indicated to detect strength deficit in athletes with groin pain.
Take this test and 139 more in our App