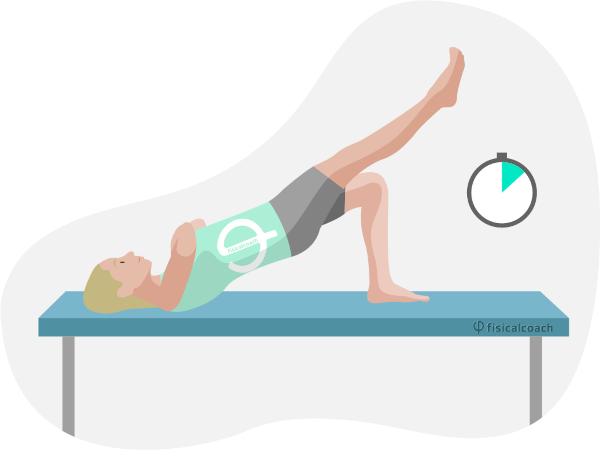 Gluteal bridge
With this test the degree of lumbo-pelvic stability (core), particularly the gluteal region can be evaluated.
Required material

:

A flat surface, a stopwatch and some soft. The use of a mat is recommended for greater subject comfort during the test. To help the evaluator work a physiotherapy table can be used, as shown in illustration.
Procedure

:

The subject must be lying supine (face up) with knees bent, hips supported and feet flat on the floor. On the evaluator's signal (start of the test measurement), the subject should lift the pelvis off the ground as shown in the illustrations, keeping the feet flat on the surface at all times. This test can be performed in two ways: first to measure how long the subject is able to hold in that position with a maximum isometric contraction and a second one to analyze the behavior of the gluteal muscles for a predefined period of time. In this case, if the subject lowers the pelvis on the right side or the left leg is trembling, an instability of the left gluteus is determined. If the hamstrings or lower back begins to contract, that's an indication that the left gluteus is not acting correctly and other muscles in synergy are doing their job.
Assessment

:

Measured in seconds (s). The subject has only one attempt.

In variants 3 and 4, the same exercise will be repeated with each leg. The evaluator must be highly trained to identify changes or loss of control in the lumbo-pelvic region and terminate the test.
Remarks

:

A strong and stable Core is the basis for all movement. On the other hand, a weak Core will pose a risk for the passive structures of the spine, and the vertebral discs can be greatly compromised by high impact exercises.
Take this test and 139 more in our App