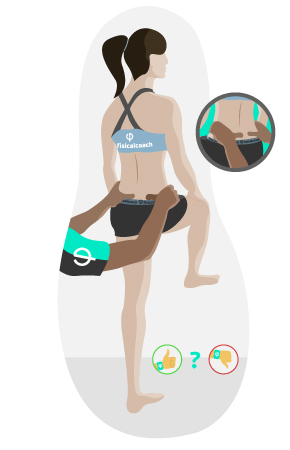 Gillet test
This test is used to assess mobility restrictions of the sacroiliac joint.
Required material: No specific material is required.
Procedure: The subject stands facing a wall with hands resting on the wall. The assessor stands behind the person being assessed, placing one thumb on the upper anterior iliac spine and the other on the base of the sacrum at the same level. He/she will ask the subject to perform a hip flexion by raising the knee to at least 90° of hip flexion on both the homolateral and contralateral sides.
Assessment: The test is normal or negative when the thumb on the side being assessed is displaced downward relative to the thumb over the sacral base or when the thumb on the sacral base is displaced when the hip on the contralateral side is flexed. Conversely, if in the manoeuvres performed there is no movement of the iliac or sacral thumb, the test is considered abnormal or positive and therefore there is fixation of the ileum or sacrum.
Remarks: The evaluator may sit behind the tested subject. It is a valid test with low reliability. It may help to predict low back pain.
Take this test and 139 more in our App