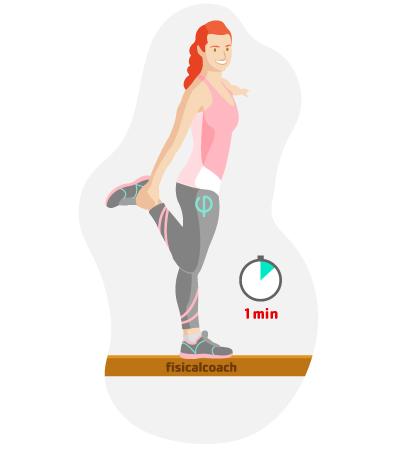 Flamingo balance test
The main purpose of this test is to measure the static balance of the subject.
Required Material

: A tape measure, a stopwatch and a metal bar 50 cm long, 4 cm high and 3 cm wide, which it is recommended to cover with a non-slip surface to prevent slipping. The bar must remain stable at all times so using two rigid supports 15 cm long and 3 cm wide is recommended.
Procedure

:

The subject stands in an upright position, with one foot on the floor and the other on the bar. On the evaluator's signal, he/she transfers the full body weight to the leg on the bar, bending the free leg until it can be grasped by hand on the same side as shown in the illustration. The test starts as soon as the subject's foot is off the ground, and he/she has to maintain balance for 1 minute. Each time he/she loses balance, the stopwatch is paused. After each interruption, the same starting protocol is repeated until the remaining test time of 1 minute is completed.
Assessment

:

The number of times the subject needed to maintain balance during the minute of the test is counted. It is recommended to perform the test with both legs. The subject has a maximum of 3 attempts. I

n Fisicalcoach, t

he lowest time, as well as the mean and the median can be recorded.
Take this test and 139 more in our App