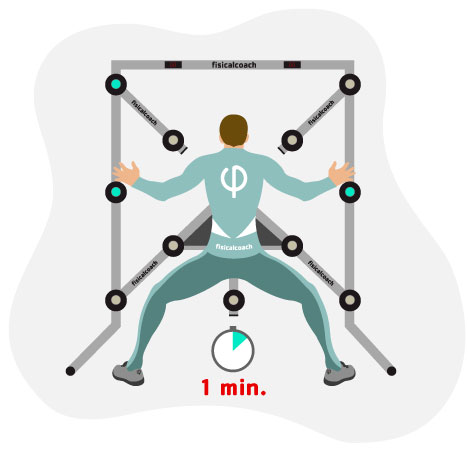 Batak Pro
Batak Pro is an interactive reaction speed test in which the subject's reflexes are put to the test. This test is frequently used in the world of sports and high performance, especially in motor racing. With this test the athlete will be able to work on reaction speed and hand-eye coordination to a visual stimulus.
Required Material: A Batak Pro device, which is a 2×2 meter square frame with 12 button LED lights that light up individually. Batak's buttons can illuminate randomly or in a fixed sequence, and have been arranged in a square pattern that requires the subject's arms to move widely. The test is controlled by a built-in microcomputer.
Procedure: The subject has to press all the lights that light up in one minute (randomply or in sequence). Scoring is based on how fast the Batak buttons are pressed and is showed on a digital display at eye level. A beep sounds and the light turns off every time a lit button is pressed.
Assessment: The total number of lights that the subject manages to turn off is recorded. He/she will have a maximum of 3 attempts. In Fisicalcoach, the highest number, as well as the mean and the median can be recorded.
Remarks: A trained athlete can easily reach 110 hits, while an untrained person usually does not exceed 70.
Take this test and 139 more in our App