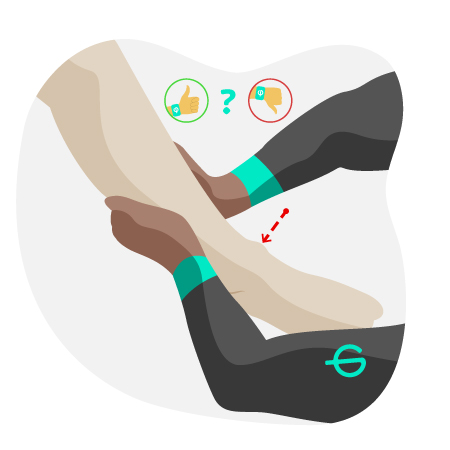 Ankle Syndesmosis
This test is used to assess the integrity of the tibioperoneal syndesmosis.
Required materials

: A physiotherapy couch. If the test is carried out on the floor, you will need a mat or matting.
Procedure: The subject lies on the stretcher in the supine position (face up). The assessor stands at the subject's feet, placing his or her cupped hands on the ankle malleoli and interlocking the fingers on the posterior aspect (see illustration). The evaluator must perform a compression manoeuvre between the tibia and fibula.
Assessment

: The test is considered abnormal or positive if the subject experiences any pain or discomfort during the manoeuvre at the inter-malleolar level. Otherwise, the test is considered normal or negative.
Remarks

: Other injuries such as compartment signs, fractures, contusions, etc. must be ruled out.
Take this test and 139 more in our App